We have literally done our Christmas cards through Shutterfly since 2004. And we have honestly never even searched for another place, because we are always thrilled with their selection. I already have the card picked out that I'll be ordering in a week or so for this year and I can't wait.

Right now Shutterfly is having a promotion where if you share a project on your webpage, you get a $25 gift card. I had so many projects to share, but I chose the one below because I can't believe how much Connor has grown since February. Weren't these cute?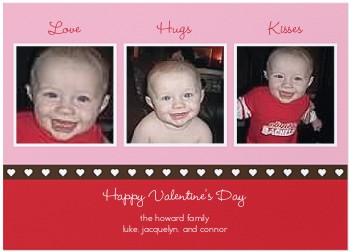 Heart Stripe Red Valentine's Day Card
Check out Shutterfly!!