My heart is just aching for the families in Connecticut. As a teacher and a Mama, I am especially hit hard. I just cannot imagine. As a mama who has lost a child and has made it a mission to hear my son's name spoken out loud, I searched for the kids names and spoke every baby's name aloud. I pray for healing for those families. I cannot fathom what they are going through right now.

Earlier I mentioned that Mr. Howard and I went to the design center to start picking everything out for the house. It was 100 parts overwhelming, but equal parts exciting. I would be lying if I said that I was completely confident that we were building the house. I am so cautious about what's going on with the sale of our own house and in order to protect myself from feeling disappointed, I've been slightly detached from the whole process. Slightly. Because it's certainly hard to be completely detached while picking out all the features in a house. Thank Goodness Mr. Howard and I have almost the exact same taste (minus the fact that we are still currently having a mini Howard Battle over whether or not we need dovetail drawers in the kitchen). He thinks we can't live without them. I think that we should spend the money to have Outdoor Wall Lanterns put on both sides of the garage. Decisions...decisions. Honestly, I think I have to win this battle. How can you argue that we don't need lights on the front of our house?!? Anyone want to help me? Anyone? =)


With our Starbucks in hand, we thought we were prepared. Whew! 
Below are the cabinets and granite (Santa Cecelia) we chose. We decided to upgrade both items, as we both have always loved the kitchen in our current house. We are also going to do the custom edge flat polished look on the granite.
We had to pick out doors for the whole house. We went with these two paneled ones below. The only door we didn't do two paneled was the front door. We are doing that one six paneled.
At one point the designer asked us if we'd ever seen electrical plans before and knew how to read them.Ummm. No. I had to get a crash course in it because minutes later we had to pick every electrical outlet in our entire house.
This is the stairrail we chose. We are upgrading this too, because the one that comes standard is a half wall with attached railing.
We chose this shower for our guest bathroom and the kids' bathroom. I wasn't super sold on it when I was in the design center, but then we walked the model afterwards and saw it in person. I actually like it.
These are the faucets we chose for all our bathrooms. There were a couple choices that we liked better, but we felt like this was something we could upgrade easily some day down the road if we wanted to.
Here's a little better picture of the cabinets. We decided not to do the knobs.
I am so not good at picking out carpet based on the samples that are about 2 inches wide. We picked the color that is on the left side, called Hay Field. But then we walked the model home and found a carpet color we love (of course it's the most expensive carpet they have and would cost us $10,000 to upgrade to). So, we're hoping Mr. Howard will be able to compare it to the samples below to find one that is similar and won't cost us $10k.
Mr. Howard and I had no intention of adding a fireplace to this house. It was about $3,000 and we had prioritized so many other things. But at the end of the day, in the design center, we both looked at each other and just kind of knew that we had to do it. We always run our fireplace now. And I certainly can't imagine not having one. Could we add one later on? Maybe. But I'm sure it would cost us a lot more than what we're paying for it. We picked the mantel on the right (although Jen wants us to go with the half-and-half look!).
Below are the cabinets and tile color we chose - along with the vinyl that will be in the bathrooms. We plan on ripping out the vinyl after we move in (but they want to charge us A LOT of money to do it).
Whew! It was about 4 hours of craziness and we're still not even done!
Below is the Sussex dining room light fixture we picked!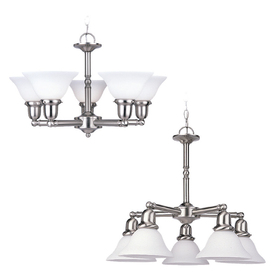 Below are the Sussex Seagull lights we are putting in the Master Bathroom (there will be two side-by-side in the master) and then in the Guest Bathroom downstairs. We are leaving the upstairs baby bathroom with the included standard bar light.
Who knew there were so many options in a tract home?
Here are the appliances we have chosen:
Stainless Steel Cooktop:
Stainless Steel Oven:
Stainless Steel Dishwasher:
Stainless Steel Microwave
Thank you SO much Heather for walking me through this process via email and even giving me your cell. I really took your advice to heart while picking stuff out!!!